Russian Official: New Law Enforcement Agency in Tskhinvali 'Decided Matter'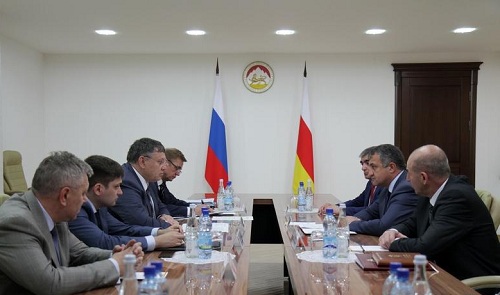 Igor Zubov and Anatoly Bibilov in Tskhinvali, June 26, 2017. Photo: presidentruo.org
At a meeting with Tskhinvali leader Anatoly Bibilov on June 26, Russian Deputy Interior Minister Igor Zubov said that establishment of the "Information-Coordination Center of Internal Affairs Agencies" in Tskhinvali was a decided matter.
According to Zubov, only technical issues were remaining, such as overhauling and equipping the building for the Center. "The funds have been designated, they must be used this year," he added.
The Russian Deputy Interior Minister also noted that the Center would be a "legally independent agency, practically an international organization" and added that the first head of the Center would be a local.
Igor Zubov signed the agreement on creation of the "Information-Coordination Center" together with a representative of the Russian-backed authorities in Tskhinvali on July 4, 2016.
The purpose of the Center according to the agreement, is "countering organized crime and other dangerous types of crimes." For that, the Center will document, analyze and exchange the crime-related information; as well carry out "inter-governmental search and extradition of persons," and assist in conducting "the necessary agreed activities to combat dangerous types of crimes that pose threats to the security of the Republic."
According to the agreement's addendum, "financing of the Center's activities is carried out at the expense of the funds provided by the Russian Federation for its maintenance."
Russia signed a similar agreement with Sokhumi on May 18, 2017, causing controversy in the region. In Tskhinvali, however, the "Information-Coordination Center" will enjoy wider powers than in Sokhumi.
In the case of Tskhinvali, the Center's officers will have a right to "store, carry and use" firearms. Besides, if the Center agents use these weapons in the region, the "legal assessment" of such incidents is going to occur "together with authorized representatives of the Center." Moreover, the Center officers will have a right to conduct "operative and search activities" in the region.
Unlike Abkhazia, where the number of the Center's employees is limited to 20, there is no limitation on the number of officers for Tskhinvali. In addition, in Tskhinvali's case it is formally specified that the working language of the Center will be Russian.
This post is also available in: ქართული (Georgian)