'Senior Cleric' Not a Target, Prosecutors Say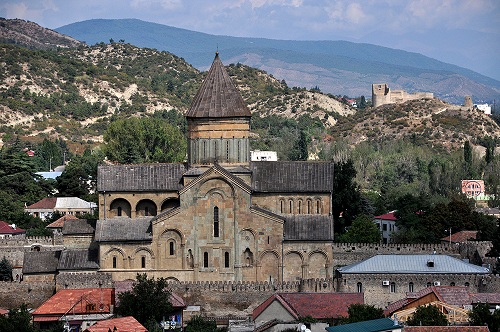 Svetitskhoveli Cathedral. Photo: Eana Korbezashvili/Civil.ge
The Prosecutor's Office clarified on February 16 that the alleged murder plot did not target Illia II, Patriarch of Georgia's Orthodox Church.
Georgia's Chief Prosecutor Irakli Shotadze said on February 13 that the investigation into the alleged murder plot was launched on February 2 based on the whistleblower claims that Archpriest Giorgi Mamaladze had asked for his help in procuring sodium cyanide, a poisonous chemical substance, which he intended to use for murdering "a high-ranking cleric."
Although the Chief Prosecutor refrained from specifying Mamaladze's target, he said that the Archpriest was arrested before departing for Germany, where the Patriarch was undergoing medical treatment, prompting reports that Mamaladze intended to poison the Patriarch.
The statements of senior Georgian officials that the law enforcement agencies have prevented "a tragedy" and "an attack" on the country added to these reports.
That the charges filed against Giorgi Mamaladze did not involve a high ranking cleric, was first voiced by Public Defender Ucha Nanuashvili, who met Mamaladze on February 14.
The Prosecutor's Office issued a statement two days later, saying that the report that Patriarch Illia II was targeted is an inaccurate "interpretation" of their February 13 statement.
Earlier on February 16, the Prosecutor's Office told Georgian daily Rezonansi that the Chief Prosecutor "stated explicitly" at his February 13 briefing that "[the target] was not the Patriarch." According to the newspaper, the Prosecutor's Office clarified that the alleged murder plot did not involve "a high ranking cleric" and that the target was "one of the persons from the Patriarch's inner circle."
The Prosecutor's Office's statements caused criticism in the opposition.
Giga Bokeria of the European Georgia accused the ruling party of "speculating" on religious matters. "This is yet another brazen episode, when they have speculated with the life of the Patriarch," he said on February 16.
European Georgia's Davit Bakradze stated on February 16 as well that the Prosecutor's Office "exploited the issue" to overshadow the ongoing developments in the country and "trigger" the confrontation in the Patriarchate, for "strengthening" the Government's influence over the Church.
Tinatin Bokuchava of the United National Movement said that the February 13 statement of the Prosecutor's Office speaks to the fact that the Government has "a concrete [political] interest." "This was confirmed by [Giorgi] Kvirikashvili, who issued a statement very quickly and misled the society."