New South Ossetian Government Head Appointed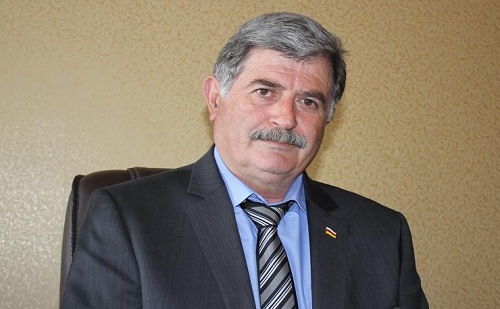 Erik Pukhaev, new head of South Ossetian government. Photo: rso-government.org
On May 16, the South Ossetian legislature approved Erik Pukhaev as the head of the region's 12-member cabinet of ministers.
Pukhaev, who served as the deputy head in the previous government, was chosen for the post by the new South Ossetian leader Anatoly Bibilov, who presented his candidacy to the region's 34-member assembly on May 5. Bibilov addressed the legislators before the confirmation vote on May 16, calling his nominee an "experienced manager" and a "decent person."
"We are well-aware of his professional qualities, the qualities of an experienced manager, who knows how to achieve results, a decent and earnest person who devoted himself to serving his people," Bibilov told the members of the region's legislature.
The new Tskhinvali leader touched upon Pukhaev's priorities as well, saying he needs to solve a wide range of issues concerning healthcare, housing, infrastructure, financial sector, economic development, unemployment, agriculture, etc.
During his confirmation speech, Pukhaev pledged to implement the pre-election program of Anatoly Bibilov and spoke on the need of conducting "active and targeted socio-economic policy."
All 32 attending parliament members endorsed the nomination. Pukhaev's appointment was later formalized by Anatoly Bibilov, who signed a decree approving him on the new position.
Bibilov was proclaimed victor of the presidential election that took place on April 9. The government resigned two weeks later, on April 24. Shortly after the election, on May 2, Bibilov met with Russian President Vladimir Putin in Sochi, Russia.
Erik Pukhaev (b. 1957, Znauri District) has previously worked as the head of the region's statistics department. Pukhaev also served as the deputy head of government from 2014 to 2017.
This post is also available in: ქართული (Georgian)