President Announces Tentative Date for Municipal Polls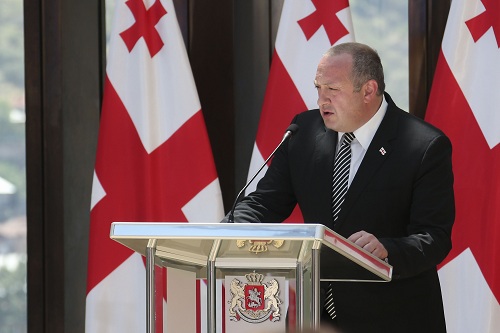 President Giorgi Margvelashvili, June 27, 2017. Photo: President of Georgia
President Giorgi Margvelashvili announced today that municipal elections will be held at the end of the third week of October, 2017.
"It is important for political parties to have a predictable electoral environment and today, four months earlier, upon joint decision with the Government, we are informing them of the future electoral calendar," Margvelashvili noted in his televised announcement.
The President added that an official decree specifying the exact election date would be issued in late August, 60 days before the election day, to avoid "budgetary and legal" complications.
The presidential decree on setting the election date will mark the formal launch of the pre-election period, which means that a whole set of legal obligations envisaged by the election code will go into effect, among them restrictions on use of administrative resources, and doubling salaries for election administration staff.
Early announcement of the election date for parliamentary polls led to uncertainty in 2016. Although the election date was first announced by President Giorgi Margvelashvili in early April, the date for the official start of the election campaign had remained unclear until early May, when President Margvelashvili and Prime Minister Giorgi Kvirikashvili agreed to set June 8 as the date for launching the election campaign.
This post is also available in: ქართული (Georgian)